The Ivy Clinic is delighted to be able to offer acupuncture treatments from its Teddington clinic. Acupuncture is a holistic treatment that has been passed down through thousands of years among the Chinese civilisation. It is a tried and tested alternative therapy for helping to relieve back and joint pain, neck tension, stress, eye strain, headaches and many other physical and mental ailments.
Acupuncture has its own system of understanding the human body and diagnosing ill health. Even now there are illnesses that other methods fail to treat, that are successfully treated by acupuncture and other holistic therapies. The subject is vast, with a wealth of knowledge contained in ancient Chinese medical text books whose true meaning can be difficult to interpret. Our acupuncturist, Po-Yee Wong, has exceptional success in treating many conditions due to her ability to correctly understand the meaning of these ancient Chinese medical text books.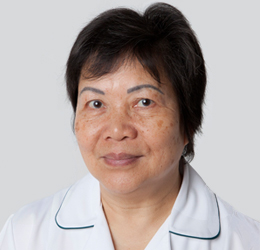 Po-Yee Wong
Acupuncturist. Member of:
Association of Traditional Chinese Medicine and Acupuncture UK No. FR04323
British Acupuncture Council No. 952040
Nursing and Midwifery Council No. 70G1759E
Po-Yee grew up in China and came to the UK over 40 years ago. She is fluent in English, Traditional Chinese and Simplified Chinese. She studied Chinese Medicine and Acupuncture at the Chengdu University of Traditional Chinese Medicine, China and has also trained in Hong Kong. She is also a registered UK nurse. When not treating patients, she enjoys reading and translating ancient Chinese books. The oldest person Po-Yee treated successfully was 92 years old. The youngest was 9 days old.
Bethan Morgan

I am so grateful to Po Yee for healing my lower back injury. I had sprained it badly after trying to lift a toddler whilst on a trampoline and had severe pain and slight numbness in my legs. I was so pleased to already know Po Yee (as she helped heal my eczema problems years ago) and she worked wonders on my back in just a few sessions. Worth every penny! Thank you.

Bethan Morgan
Lesley Colyer

After many years of back pain I was fortunate to have found Po Yee. Over a number of treatments she has helped me to be pain free and enjoying life again! I cannot recommend her enough. Thank you!

Lesley Colyer
Ray

Dear Dr Po Yee. I came to see you as I was unable to walk. After 2 sessions I was able to drive and after 6 sessions I was back to work. After 11 weeks off work, after 10 NHS doctors, you saved me! Thank you. God bless.

Ray
Leah

Dear Po Yee. A few years ago you helped my brother who had eczema and also my sister who had psoriasis. With your help they are now completely cured since they had acupuncture their skin has been perfect. This is the reason I now come to see you. After only two weeks I have noticed my skin improving so much. For this I will always be grateful. Many thanks.

Leah
Trevor

I have suffered with high blood pressure and my doctor was surprised that I hadn't passed out or worse. In January 2014 I felt so ill that I really thought I was on my last legs and was dying! Wong Po Yee has after 4 months of treatment made me feel like a new person and I now feel healthy. I had forgotten what healthy was. I can only say that Po Yee has performed a miracle!

Trevor
Lisa Whitbread

Po Yee. Thank you for treating my sons hayfever. Which now his symptoms have all cleared. No more puffy eyes, sneezing or blocked nose. Thanks again.

Lisa Whitbread
Frank

I came to see Po Yee as my nephew visited 10 years ago with chronic hayfever. After his visit he has never suffered again – remarkable!

Frank